YUMI (Your Universal Multiboot Installer), is a Multiboot Live USB boot maker tool or MultiBoot ISOs utility. This software can be used to create a USB Installer for Windows and Linux. You can build custom bootable USB drives containing multiple ISO files of your choosing.

YUMI | Multiboot ISO Bootable USB Creator
A popular tool that can help you quickly and easily make a flash drive boot from USB. Here the utility is shown loading the startup Boot Menu from USB:
What is YUMI?
Derived from its predecessor the Universal USB Installer (UUI),  this "USB boot creator" is a free and open-source software tool that allows users to create and then boot from a USB flash drive or memory stick consisting of multiple operating systems and tools. With YUMI, you can run a variety of Linux and Windows operating systems, antivirus utilities, disk utilities, and other tools from one removable device. Whereas UUI can only be used to USB boot one distribution or tool from the flash memory device, at a time.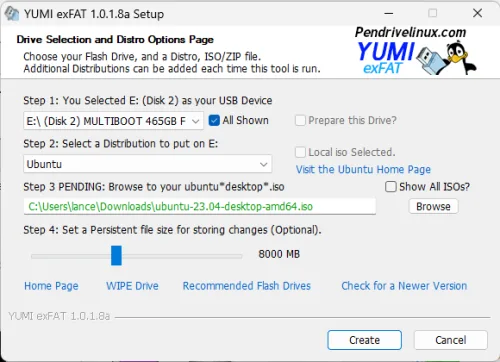 Features of this Multiboot USB Bootable Software
Website links provided so you can learn more about each bootable distribution.
Download links make it easy to find ISO files to put on your bootable USB.
Includes a Persistence file creation feature for Ubuntu based distributions.
Ability to view/remove installed items. Makes it easy to cleanup and reorganize.
A format option is available to assist in the format/reformat of drives.
exFAT variant supports the ability to "Drag and Drop ISO files" onto the flash memory stick.
Legacy version uses a Fat32 formatter on even 32GB+ large USB drives.
100% Free and Open Source (source code is provided for each version upon release).
YUMI Boot from USB Specifications
Official Website: YUMI Multiboot USB Boot Maker
Archived Variants: Older Variants
Author/Developer: Pen Drive Linux
File Size: 1MB - 15MB depending on variant or version.
License: Open Source
Supported Operating Systems: Windows 11, 10, 8 (Linux support via WINE)
Download: This tool is offered by Pendrive Linux in Legacy, BIOS, UEFI, and exFAT variants.
Important Note: All variants with the exception of the current exFAT releases have been archived and are no longer being actively updated or supported. As such, some of the most recent Linux distributions (that are over 4GB in size) will no longer work if using the older programs. For the best ISO compatibility, it is highly recommended to only use the latest exFAT releases going forward.
You can learn more about and download the Legacy (BIOS only Boot) version here;
Multiboot ISO USB Creator - YUMI Legacy Download
The UEFI (BIOS and UEFI Boot) version is made available here;
YUMI UEFI Download
Or the recommended latest exFAT release here;
YUMI exFAT Download
How to Create a Bootable USB drive using YUMI
To make a Multiboot USB drive that enables you to boot from USB, simply follow these steps:
Download and install YUMI from the official website.
Insert a flash drive into your computer.
Launch the Multiboot creator and select a thumb drive to use.
Select the operating system or tool you want to add to the flash drive from the list of available options.
Follow the prompts to download the necessary files to create a bootable USB drive.
You can repeat steps 4 and 5 to add multiple operating systems or tools to your memory stick. Once you've added all of your desired operating systems and tools, you can proceed to boot and run them on any computer that supports booting from USB.
How much is YUMI?
It is made available absolutely free of charge. The software utility is also open source, so anyone is able to view the code. Being open also proves that it is kept clean of any malicious code, ensuring that the tool remains safe to use.
Here's a bit more about the original Universal USB Installer which is now also a multisystem tool.