XBOOT is a Windows based Multiboot USB ISO Creator utility. It can be used to quickly create Live Bootable USB Flash Drives from ISO files. This application can also create a Multiboot CD or Multiboot DVD from an ISO file. Use it to create and boot multiple Linux distributions, antivirus software, and system diagnostics tools from a single flash drive or an ISO file. The app also features an easy to use drag and drop interface. All while supporting the most popular Linux live CDs, Antivirus Rescue CDs, and other useful tools.
Multiboot USB Flash Drive ISO Creator XBOOT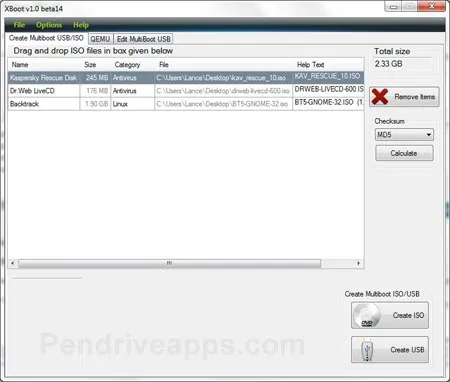 Authors Website: Archived XBOOT Home Page
Note: It appears the Author Shamur has passed away. This project is no longer in development.
Extracted Size: 5.63 MB
License: Freeware
Download: Grab this Multiboot Live USB ISO Creator - Download XBOOT
If you enjoyed this tool, you might also want to check out the YUMI Multiboot Bootable USB creator. YUMI is actively updated and can also be used to boot Windows Installers, run Live Linux ISOs, and supports booting other useful computer diagnostic tools and antivirus/antimalware utilities from a USB flash drive.