Speccy is a Portable System Information Tool. It can be used to quickly obtain and display detailed specifications or specs of the system hardware and operating system installed on a computer. It is easy to use and displays system specs in an easy to read and follow format.

What is Speccy and how is it useful?
Speccy provides specs for techs. It is a system info tool useful for checking system compatibility with certain software, diagnosing hardware issues, and ultimately optimizing system performance. It might also be used to find compatible hardware when performing system upgrades or for comparing computer systems.
Specs and details related to CPU, motherboard, RAM, video cards, hard disks, usb drives, optical drives, sound cards, and operating systems are displayed. It is available as a free download for Windows operating systems.
I originally stumbled upon this tool while trying to sort out stability issues I was having with my laptop. It just so happens that Speccy includes a cool feature that estimates the temperature of both the CPU and video card, for quick reference to any cooling problems. This temperature monitoring feature helped me to narrow down my laptop stability issue to a defective cpu fan. The malfunctioning fan was causing my laptop to overheat, corrupting data and making the PC unstable.
Speccy Portable System Information Tool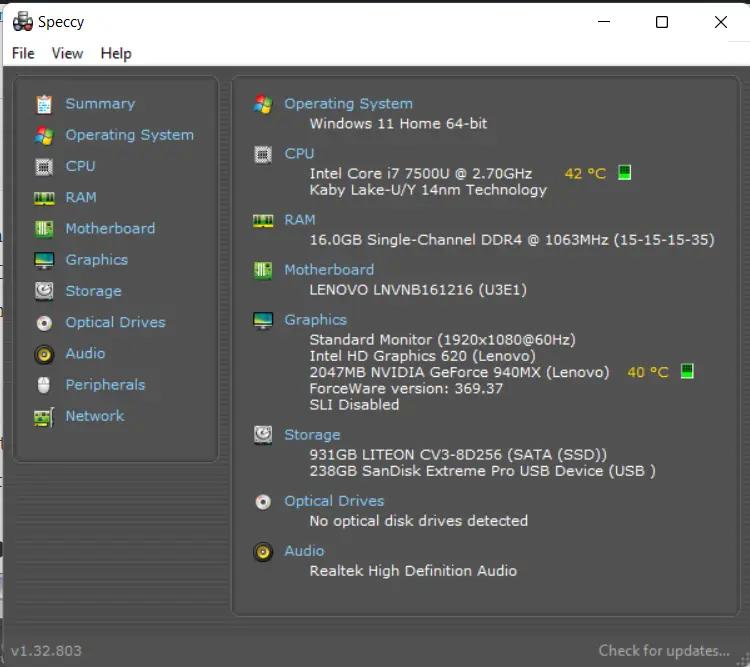 Extracted Size: +-30 MB
Author: Created by Piriform Ltd., who also offer the popular Windows System Cleaner - CCleaner.
Authors Website: Project Page
License: Freeware
Supported Operating Systems: Windows 11, 10, 8, 7
How to make Speccy Portable
To make Speccy run Portably from a USB flash drive, simply follow these steps.
Download the latest Speccy build from the official website.
Create a new folder called "Speccy" on your flash drive.
Using 7-Zip, right click for example; spsetup132.exe to open and extract the contents of the installer to the folder on your flash drive.
Download this portable.dat file and place it in that folder.
Click Speccy.exe from the folder to run Speccy Portable from your flash drive.