Totally Free Burner is a Free application that allows users to Burn Audio, Video or Data CDs or DVDs quickly and easily. With Totally Free Burner, a user can create an Audio CD using mp3, wma, ogg and wav files, create a VideoCD from Mpeg1 VCD files, create a Data CD/DVD ISO9960 and Joliet (Multisession), create a Data CD/DVD UDF, create a Video DVD from existing DVD files and create a CD/DVD from BIN/ISO image directly. The application is both powerful and simple to use and most importantly, Totally Free Burner can be easily converted into a portable application.
Totally Free Burner - Portable CD DVD Burner Screenshot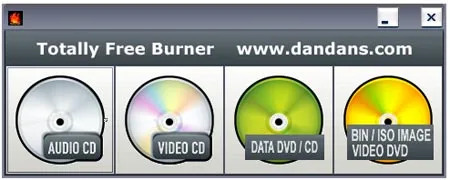 Authors Website: dandans.com/TotallyFreeBurner.htm
License: Freeware
How to Make Totally Free Burner Portable:
Download the DanDansBurner.exe installer
Click DanDansBurner.exe and proceed to install to your PC
Copy the DanDans Free Burner folder from C:\Program Files\DanDans Free Burner to your Flash Drive
Click DanDansFreeBurner.exe from the DanDans FreeBurner folder to launch the program
Note: You can uninstall DanDansFreeBurner from your PC after you have copied the folder to your portable device.