DNS Jumper is a free Portable DNS server switching software utility designed to help users easily switch between different DNS servers. Though you can do this manually within Windows, this DNS Server Switcher can make this process easier. The software comes with a list of fast and popular DNS servers, but users can also add their own DNS servers to the list. DNS Jumper is lightweight and easy to use, making it a useful tool for both novice and advanced users alike.

Why might you want to Change your DNS Server?
Users can improve their internet browsing speed and security by changing to a faster or more secure DNS server. Switching DNS servers can help you access blocked websites. You can also block inappropriate websites by changing to a Family Safe DNS server, helping to keep your family and children safe.
Key Features of this DNS Server Switcher
DNS Jumper is a versatile DNS server switcher with features, including:
Comes preset with a list of popular "fast DNS servers" from around the world.
Optionally use your own custom DNS servers, if you prefer.
Includes a DNS speed test feature allowing you to test DNS server speed and then choose the fastest one.
Enables you to switch to a new DNS server with just one click.
Allows users to backup and restore their current DNS settings.
DNS Jumper offers a portable version that users can carry with them on a USB drive to use on any computer without installing.
Is available in many different languages.
DNS Jumper makes it easy for anyone to switch between DNS servers to improve their internet browsing speed and security.
Portable DNS Jumper Specs and Download Info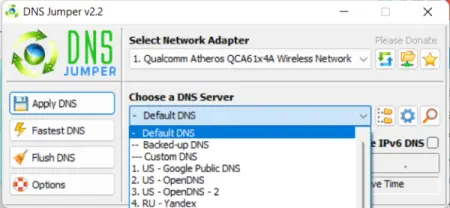 Authors Website: Project Page
License: Open Source
File Size: +-1MB
Supported Operating Systems: Windows 11, 10, 8, 7, Vista, XP
Download: You can get this Portable DNS Jumper HERE