Advanced IP Scanner is a portable free network scanning tool. This LAN scanner allows you to scan and analyze your local network to identify and gather information about all of the devices connected to it. Scan IP addresses and ports, detect shared folders and HTTP/HTTPS servers, and even remotely control computers with features such as Wake-On-LAN and remote shutdown.

How Advanced IP Scanner works
Advanced IP Scanner and port scanner works by sending ping requests to all of the IP addresses you provide within a given range, analyzing ping responses to determine which devices are active. It can obtain a wide range of information about each device on your network, such as its IP address, hostname, MAC address, manufacturer, and even the services and ports that are currently open.
Additional features are also accessible through their Radmin viewer. Features such as remote access, telnet, file transfer, and remote shutdown, which allow you to manage your network more efficiently and securely. This information can be useful for network administrators who need to monitor and manage their network infrastructure, as well as for home users who want to identify and troubleshoot issues with their devices and connections.
Advanced IP Scanner - Port Scanning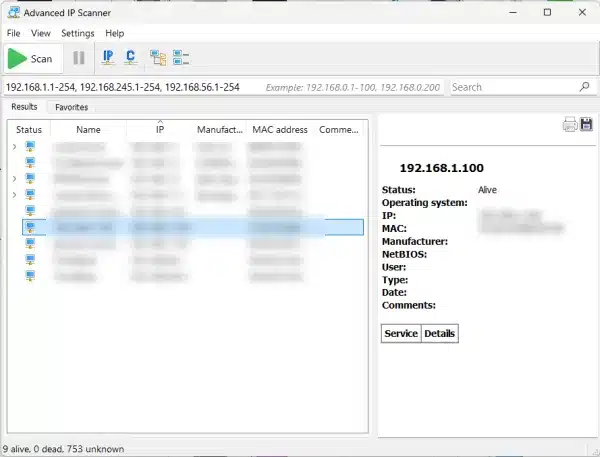 Specifications | Project Page | Where to get it
File Size: 20 MB
Authors Website: Project Page
Creator: Famatech Corp.
Supported Operating Systems: Windows 11, 10, 8, 7
License: Freeware
Downloading: Get this free and portable advanced port scanner here:
Advanced IP Scanner Download