Quick'N Easy FTP Server Lite is an amazingly small portable FTP server that can easily be run directly from a USB portable device. It's simple elegant GUI interface is easy to navigate and use. Quick'n Easy also contains advanced administration options for advanced users. Total size is less than 400k making it ideal for USB flash memory stick installation.

About Quick'n Easy FTP Server Lite Edition
Quick'n Easy FTP Server Lite enables users to set up and manage their own FTP server. FTP stands for File Transfer Protocol, and an FTP server is a computer program that allows users to transfer files over the internet from one computer to another.
Key features of this free and portable FTP Server include
Simple setup: The software is designed to be easy to install and configure, even for users with limited technical knowledge.
User-friendly interface: The program has an intuitive interface that allows users to quickly and easily manage their FTP server.
Security: Quick'n Easy FTP Server Lite supports SSL/TLS encryption, which helps to secure file transfers and prevent unauthorized access to the server.
Customization: Users can customize the software's settings to meet their specific needs, including setting up user accounts and permissions, configuring access restrictions, and more.
Compatibility: The software is compatible with most popular FTP clients, including FileZilla, CuteFTP, and others.
Free version available: Quick'n Easy FTP Server Lite is available in a free version, which includes all of the basic features that most users will need to set up and manage their own FTP server.
Quick'n Easy free FTP Server in action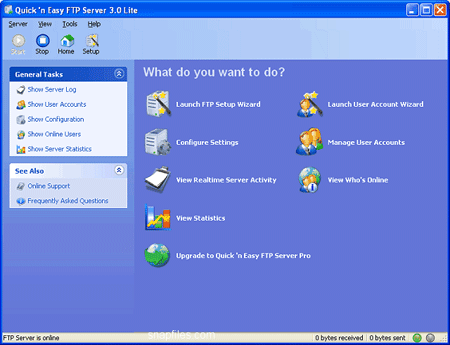 Authors Website: project page
Filesize: <400KB
License: Freeware
Download: Grab the Quick'n Easy portable FTP Server HERE