Gaim Portable is an Open Source portable instant messaging client application. It is essentially an all in one instant messaging client that allows you to take your IM settings and buddy lists with you wherever you go on a portable device. This Instant Messenger can be stored and launched directly from a USB device.
Gaim Portable is compatible with MSN messenger, AOL instant messenger, ICQ, Yahoo, IRC and many other networks. Users can log in to multiple accounts on multiple IM networks simultaneously, so you can be chatting with friends on multiple networks all at the same time.
It supports many features of the various networks, such as file transfer, away messages, and typing notification and provides many unique features. A few popular features are Buddy Pounces, which give the ability to notify you, send a message, play a sound, or run a program when a specific buddy goes away, signs online, or returns from idle; and plugins, consisting of text replacement, a buddy ticker, extended message notification, iconify on away, spell checking, tabbed conversations, and more.
Gaim | a Portable Instant Messenger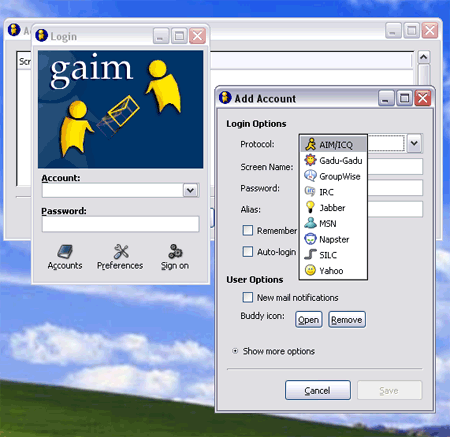 Authors Website: Gaim Portable
License: Open Source
Download: You can get this Portable Instant Messenger (now called pidgin Portable) HERE