ImageUSB is a free USB image tool that allows a user to create and clone images of USB drives. Similar to using dd, the tool works by creating an exact bit-level copy of the data. It can work with a wide range of USB drives, including flash drives, sd cards, and other removable portable storage devices.

ImageUSB | Shown burning an ISO to USB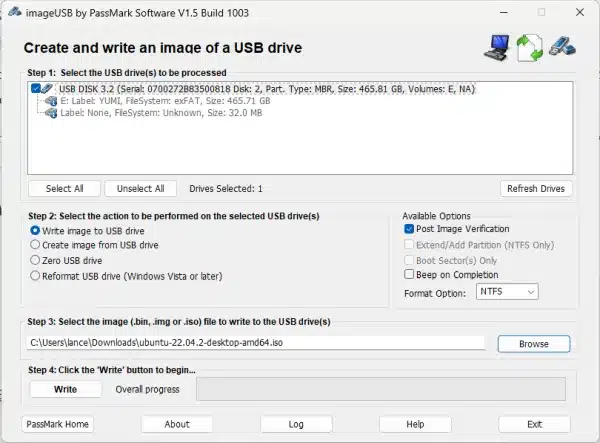 Features of ImageUSB
One of the standout features of ImageUSB is its ability to create bootable USB drives. This makes it an essential tool for anyone who needs to either install an operating system or perform diagnostic tests on a computer. The utility can create bootable drives from ISO files, making the process of doing things like creating a Live Linux USB quick and easy.
Another great feature of this software is its ability to clone USB drives ~ which is what I tend to use it for. This is especially useful when you need to make multiple copies of a drive for backup or distribution purposes. It will create an exact copy of a USB drive, including all files, partitions, and a bootloader if it exists.
In addition to ISO cloning and bootable USB creation capabilities, this free tool supports a variety of other image formats, including IMG, VHD, and DMG. This makes it a versatile tool for users who work with different types of image files.
ImageUSB also utilizes a user friendly graphical user interface which includes a range of useful features for working with your USB drives. Whether you need to create bootable drives, clone USB drives, or work with different image formats, this is a great free option to consider.
Note: PassMark has made this software available as a zipped file. Which means that the utility can be run stand alone and does not need to be setup and installed to a PC. However, you will obviously want to run the executable from a different location than the flash drive you are working with.
Additional Specifications
Website: Project Page
Author: PassMark Software
Extracted Size: 4.27 MB
Downloading: You can get it here in a zipped file format:
ImageUSB Download