iWisoft Free Video Converter is a free software application or tool that can be used to convert videos from one format to another.

Free Video Converter by iWisoft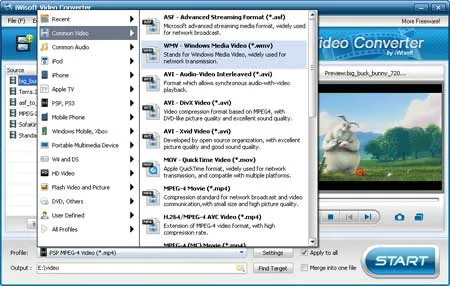 The Video Converter supports just about every known format, including AVI, MPEG, WMV, DivX, XviD, MP4, H.264/AVC, AVCHD, FLV, MKV, RM, MOV, 3GP, and audio MP3, WMA, WAV, RA, M4A, AAC, AC3, OGG. Videos can be converted to video or audio formats for playback on a PC, iPod, iPhone, Apple TV, PSP, PS3, Xbox, Creative Zen, Zune, Archos or other device. You can also add watermarks and crop your videos with this Free Video Editing Utility.
Extracted Size: 21.9MB
Authors Website: http://www.easy-video-converter.com
License: Freeware
How to make iWisoft Free Video Converter Portable
Download iWisoft Video Converter and run through the install to your PC  (uncheck create a Start Menu Folder and Desktop Icon).
Copy the C:\Program Files\iWisoft Free Video Converter folder to your USB device.
Launch the program using VideoConverter.exe
Uninstall the software from your computer and continue to run it from your flash drive.
Note: This program will run just fine from a flash drive on multiple computers. However, it does create a %HOMEPATH%\My Documents\iWisoft Video Converter directory when launched. This could be eliminated via a simple batch file that removes the directory on shutdown containing the following code:
rmdir "%SystemDrive%%HOMEPATH%\My Documents\iWisoft Video Converter\" /s/q