Password Safe is a portable password manager. A free password keeper data storage utility that can be used to securely store your important passcodes in a database, and then easily retrieve them via one password. With it, you can keep your passwords securely encrypted and bring them with you.

I think it is one of the best password managers, considering that it is still actively being actively updated.
Privacy begins with you. You no longer need to store your passwords in an open text file, or keep a paper list of passwords. Those methods are unsafe and could easily be physically or electronically viewed by anyone. Password management tools like these help to provide you with a more secure method to use to protect your login information. A single combination unlocks everything.
PWSafe features include the ability to organize passwords using different groups or categories. You store your passwords in a database and use a single encrypted master password to access them all. You can also use multiple databases with separate master passwords. Information can optionally be copied to the clipboard during use after performing a master unlock of the database.
Password Safe Password Manager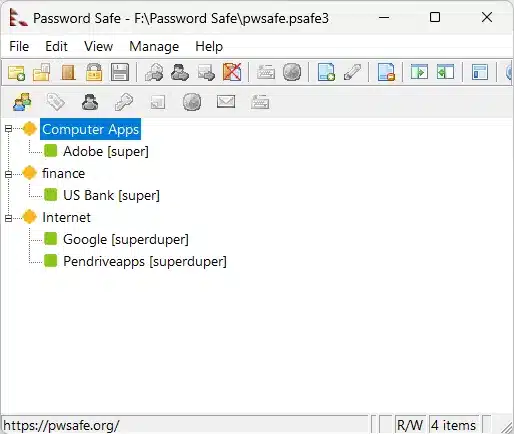 Authors Website: Project Page
License: Open Source
Extracted Size:  Requires roughly +-10 MB of free space for portable stand alone installation.
Supported OS: Windows 11, 10, 8, 7, XP