YamiPod is a FREE stand alone portable ipod manager that allows you to manage the content of your iPod without even having iTunes installed. This allows you to copy your mp3 and ACC files to and from your iPod. You can also remove duplicate song entries, import or export playlists etc. This program can be installed and run directly from your iPod.

YamiPod iPod Manager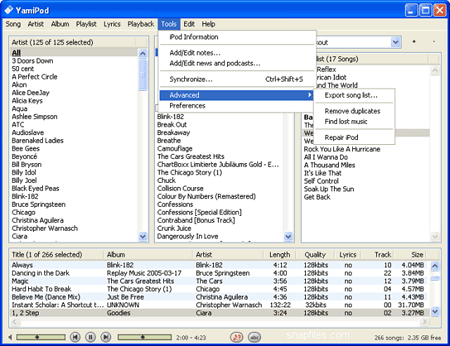 Some of its key features include:
Music Transfer: Lets users to transfer music files to and from their iPods without needing to use iTunes. This is particularly useful for those who want an alternative to Apple's software.
Playlist Management: Users can create, edit, and manage playlists directly within the tool, giving them control over their music organization on the iPod.
Song Information Editing: Enables users to edit song information, such as title, artist, album, and genre, for tracks stored on the iPod.
Play Count and Ratings: The software can display and modify play count and ratings for songs on the iPod.
File Management: Perform various file management tasks, such as deleting duplicate songs, fixing broken file links, and removing unwanted files from the iPod.
Backup and Restore: Back up an iPod's contents to their computer and restore from those backups.
Lyrics and Artwork: Manage song lyrics and album artwork on the iPod.
iPod to iPod Transfers: Supports transferring music and playlists between different iPods.
Cross Platform Compatibility: Available for Windows, macOS, and Linux, making it a versatile choice for users of different operating systems.
Additional Specs | Archived Page | Download Link
Authors Website: Archived YamiPod Project Page
It appears this software is no longer in development. An archived link is provided.
License: Freeware
Extracted File Size: This program uses under 4100kb.
Downloading: You can Download the YamiPod Torrent and then proceed to download the yamwin.zip using your favorite torrent client.